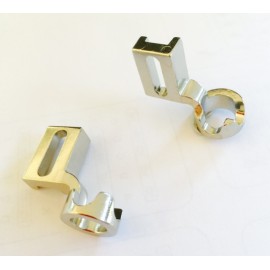 Ruler Foot Medium Shank
Product Code:
RUFT-MS-NS Ruler Foot Medium Shank (Medium)
Price: $48.50

Ruler foot with outside diameter 1/2" giving 1/4" from needle to the edge at all times.
Important: First loose the screw so that the foot drops freely on the sandwich and then tighten the screw. Try to move the sandwich freely by hand. If tight, then loosen the screw and raise the foot just a little bit higher but not too much.
High Heel Ruler Foot for quilting with thick rulers or templates

Free-motion foot is adjustable so you can raise or lower the foot depending on the thickness of your ruler/template or the thickness of the sandwich quilt.
Special design with two "U" shape recesses - one on the front for sit-down free motion quilting and the other one on the side for stand-up quilting on the frame for better visibility.
Medium shank fits Janome "high shank" machines MC5000, MC5700, MC6600, MC6700, MC7700, MC9000, MC10000, 10001, 11000, MC12000, MC14000 Horizon, MC15000 Horizon, MC8200QC, MC8900, MC8900QCPSE, MC9400QCP, MC9900 Memory Craft, S5 Skyline, Skyline S9 and Elna "high shank" machines 8006, 9006, CE20, 680 eXcellence, 730 eXcellence, 730PRO eXcellence, 760 eXcellence, 760PRO eXcellence, 780 eXcellence, 860 eXpressive, 900 eXpressive, 920 eXpressive etc.

will also fit some low shank machines like Janome, Brother, Babylock etc. - please check with us if in doubt.