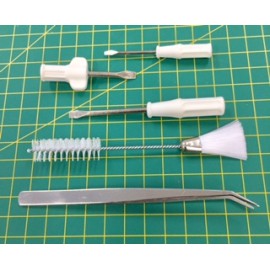 Sewing Machine Maintenance Set
Product Code:
SMMS-5
Price: $16.50

Sewing machine maintenance set

Set contains 5 essential tools - 3 screwdrivers, 1 lint brush and 1 tweezer

Suitable for maintaining sewing machines and overlockers/sergers

Set of 3 screwdrivers for sewing machines - large one 110mmx5mm, small one 78mmx2.5mm and wing one 70mmx5mm.

3 different size screwdrivers specifically designed for sewing machines and overlockers/sergers. There is one (large 110x5mm) designed for removing the machine's top and side covers. Also one short (wing) screwdriver (70x5mm) designed to make removing the machine's needle plate a breeze. And one small screwdriver (78x2.5mm) that is just the right size for adjusting your machine's bobbin case tension.