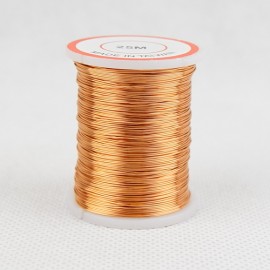 Copper Wire 30ga. (110 rolls)
Product Code:
CW-4S8 (30ga) Bulk
Price: $55.00

Copper Craft Wire is made from copper wire enameled with various colours. Enameled copper craft wire is widely used in crafting projects, jewellery-making projects and also wirework projects.
This clerance is for 110 rolls.
Each roll is 30ga (0.25mm) x 30 metres
Please note this clearance is "One Set" only. Do not increase your purchase quantity.
Smaller quantity can be arranged. Please email for enquiry.