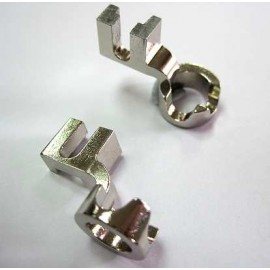 Ruler Foot Low Shank (Short ) Juki
Product Code:
RUFT-JUKI-NS Short Shank
Price: $42.50

Short Shank Ruler foot for all Juki domestic sewing machines and most other low shank sewing machines like Janome, Toyota, Elna, Brother, Singer and Pfaff etc.
Important: First loose the screw so that the foot drops freely on the sandwich and then tighten the screw. Try to move the sandwich freely by hand. If tight, then loosen the screw and raise the foot just a little bit higher but not too much.
Ruler foot with outside diameter 1/2" giving 1/4" from needle to the edge at all times. High Heel Ruler Foot for quilting with thick rulers or templates. Free-motion foot is adjustable so you can raise or lower the foot depending on the thickness of your ruler/template or the thickness of the sandwich quilt.
Special design with two "U" shape recesses - one on the front for sit-down free motion quilting and the other one on the side for stand-up quilting on the frame for better visibility.
Low shank fits all Juki domestic sewing machines except TL-98/2010, all Toyota and Brother domestic machines (except PQ-1500), Bernette, Singer low shank machines, Pfaff, Husqvarna and Janome low shank machines 2040, CE2200, HF3022, ML3023, ME4018, 4045LX, 4045NX, 4119(Quilter's delight), ME4123, 4618LE, 4623LE, 6019QC, 6125QC, 6260QC, 4048, 8048, 8080, DC2007LE, DC2010, DC2011, DC2012, DC2013, DC2014, DC2015, DC3018, DC3050, DE5018, DE5024, DE5124, DS3500, HD-1000, HD-3000, HF3000, HF4045LX, HF5024, HF8077, Harmony 4052LX, 7061NX, 7330, HT2008, JP720, JP760, MC2400, MC3000, MC3500,MC4000, MC4400, MC4800, MC4800QC, MC4900QC, MC5001, MC5002, MC5500, MC6000, MC6300P, MC6500P, MC7000, MC7500, Sew Precise, MO200, DC1050, 8050, DC4030, DC5100, MC5200, AQS2009, 3160QDC, 2160QDC, JHN1860, HF8050, DX502, 509, 521, 525S, 625E, 652, 653, 659, 660-Jem Gold, 661-Jem Gold 2, 662-Jem Silver, 712T, 7318, 808, 808A, ME4014, S-3015, MS-3015, MS-5027, S-3023, NH2014, S-650, S-750, S-950, SD2014, S2015, DX2015, SS2015, SW2018E, DX2022, DX2030, SL2022, SR2000, SR2100, MyStyle100, 665-Jem Gold III, 661G-Jem Gold Plus, Sewist 500, HF5812, , JA104, JA106, L108, L109, L110, 222A, COMBI 10, L352, L353, 360, 380, 381, 405, 415, 419S, 423S, 530, 531, 609, 611, 618&681, 609NH,619&692, 620, 621, 623, 625(old), 625FA, 626, 630, 631, 632, 639(Jem), 640, 641, 642, 651, 656, 684, 710&795FA, 802, 803, 1017, 1117S, 2003P, 2018S, 2039SN, 2041, 2041LX, 2041NX, 2041S, 2141S, 2041SX, 2049LX, 2049NX, 2118S, 2139S, 2139N, 2149SX, HF3125, 4612TM, 7306, 7312, FA772, Harmony1017, Harmony2041, HF106, HF107, HF1012, HF2022, JA1502, JA1504, JA1506, JA1508, JA1510, JA1512, JA1518, JD1803, JA1804, JD1806, JD1810, JD1812, JD1814, JD1816, JD1818, JD1822, Jem Lite, JF1004, JF1012, JF1014, JF1018, JF1018S, JF1022, JS1003, JS1004, JS1008LE, L352, L353, L352, L353, L372, L373, L392, L393, LR1612, LR1616, LR1618, LR1622, QS2250, RX1818, RX1822, 657, 657A, 661(Old), 680, 681D, 692, 693, 763, 791FA, 793, 844, TB12, 3128, Hello Kitty Full Size, 2222, 2212, 2206, HF-RE1706