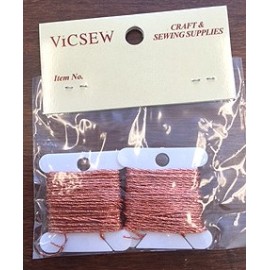 3-Strand Metallic Thread (Rainbow Colour)
Product Code:
MT-M46/2Mx2
Price: $1.50

3-strand metallic thread blended with glittered rainbow film - 2 metre/card 2 cards/pack $1.50 each pack or $5.00 for 5 packs ($1.00 each pack).
Excellent for beading, scrapbooking, sewing, quilting and any other crafts. Wear-resistant and fray- resistant.
Usage is no limit with your imagination!
Can be used on beads with small holes or doubled for beads with larger holes.