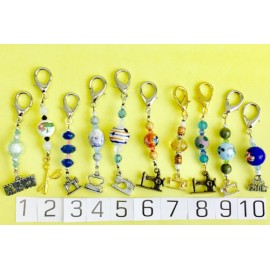 Scissor Fobs w/Lobster Claw SF-LC-B
Product Code:
SF-LC-B Scissor Fobs with Lobster Claw
Price: $6.50

Scissor fob with lobster claw - shown is a listing for one of a kind HANDMADE 10 scissor fobs with lobster claw clasp.
They all come with sewing themed charms as shown in the photo. Please order by the pattern number and buy 2 get one free (we will select for you and put it in the shipment).
They are for embroidery scissors with small handle rings. If you have bigger handle rings or rotary cutter etc., please order the scissor fobs with loop strap - item No. SF-LOOP at http://www.vicsew.com/index.php?route=product/product&product_id=3009