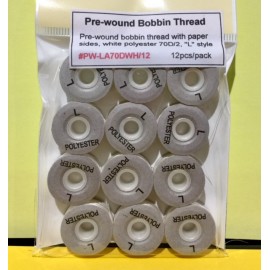 Pre-wound Bobbin Thread 70D/2 White
Product Code:
PW-LA70DWH/12 Pre-wound Bobbin Thread
Price: $6.50

Pre-wound bobbin thread with cardboard sides - polyester 70D/2, "L" style fit most embroidery machines Brother PR600, 1000 or Janome MB4 and any other multi-needle embroidery machines Toyota, Tajima, Melco, Ricoma etc. White colour. 12 pcs per pack. Each bobbin thread about 114m long.
Also fits Babylock Sewing Machine Models: BL500A, BLQP
Brother Sewing Machine Models: PQ1300, PQ1500, PQ1500S Elna 7100
Janome Sewing Machine Models: 1600P, 1600P-DB, 1600P-DBX, MC10000, MC11000, MC5000, MC5700, MC6600, MC7000, MC8000, MC9000 Juki Sewing Machine Models: TL-2010Q, TL98E, TL98Q, TL98QE
Pfaff Sewing Machine Models: 1200 Grand Quilter Viking Sewing Machine Models: Mega Quilter
Also for Singer industrial-grade model Studio S16 and all industrial plain sewers - Juki, Brother, Mitsubishi, Singer etc.