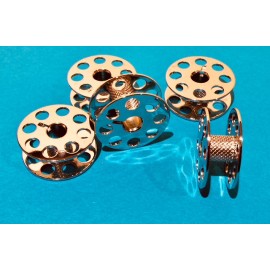 "M" Style Bobbins (Steel) with Knurled Stem for Quick Winding
Product Code:
18034QW-N Steel Bobbins (Quick Wind) "M" Style
Price: $10.50

"M" style large bobbins, steel (nickel plated) with knurled stem for quick winding for most long arm quilting machines - Gammill, Innova, Nolting, Handi Quilter, Tin Lizzie etc. 5 pcs per pack. Precision made in Taiwan.
Size: 25.4x10.8x6mm